Tour-preferred design combines with elegant styling to form Bettinardi 2019 Studio Stock Putters. Milled in the U.S.A. from Bettinardi's proprietary blend of 303 Stainless Steel, each model features a F.I.T. (Feel Impact Technology) face design to provide unforgettable feel and impact. The premium, hand-polished platinum finish combines with a sharp Sapphire Blue paint scheme to create an eye-catching aesthetic.
F.I.T. (FEEL IMPACT TECHNOLOGY) FACE:

Designed specifically for golfers with an aggressive putting style
Robert Bettinardi milled F.I.T. face 20% deeper than prior models for soft response
Bettinardi's milling process eliminates the need for inserts for durability and quality
STUDIO STOCK 2 MODEL – FEATURES:
Aesthetic and performance enhancements engineered to make this model the standard
Hosel positioned slightly forward toward the toe for slightly less toe hang than traditional models
Raised shoulders and rounded bumpers create perimeter weighting and clean looks at address
Milled from a proprietary blend of 303 SS for exceptional machinability and unforgettable feel
Hand-polished platinum finish provides a cleaner, more durable appearance
STUDIO STOCK 2 MODEL – TOE HANG: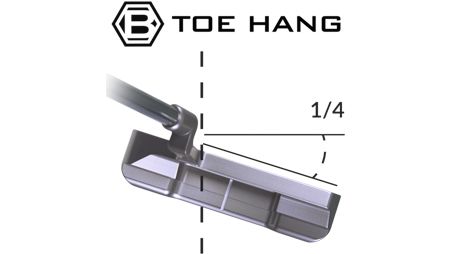 Bettinardi 2019 Studio Stock 2 model features moderate toe hang
How and where the neck or shaft of the putter meets the head determines its toe hang
For players with a strongly arced putting stroke, Bettinardi recommends greater toe hang
For players with a straight or slightly arced stroke, Bettinardi recommends minimal toe hang
LAMKIN CORD DEEP ETCH GRIP - STANDARD:
Standard size and low-profile design allow for maximum hand feel and response
Ideal for golfers looking for a grip that delivers maximum shot feedback at impact
Paddle-style profile encourages a more relaxed, tension-free putting stroke
Deep Etch horizontal traction pattern elevates grip in all playing conditions
Highly durable synthetic leather compound built to last round after round
Currently all stock orders are taking approximately 4-5 weeks for fulfillment from the manufacturer.
Updated 7/6/2020.
CANCELLATION POLICY
We are a Built-to-Order business. Please read the following below as you will be accepting these terms after final payment is received.
A 3% cancellation fee will be applied to order cancellations within one (1) business day of placing the order.

A 90% refund (10% restocking fee) will be issued for an order cancelled when pending with the build shop.

There will absolutely be no cancel order requests with orders already in the process of building.

All orders delivered in full are final. Some exceptions apply.

Order modifications must be made within (1) business day of placing order. No exceptions.
RETURNS & EXCHANGES
Due to the nature of custom work, we do not take any returns for any order. We may open exceptions if the order is deemed different from the original order. This is determined on a case-by-case basis.